Barney is coming out against Obama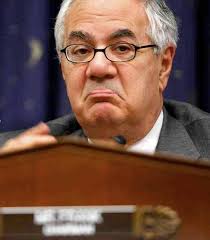 Well the first shot across the bow has been made.  One of the loud mouths of the House of Representatives has made it unmistakenly clear he disapproves of some of the decisions Barack Obama has made regarding selecting as Pastor Rick Warren to give the invocation at his inaugural.  Now on the surface we could simply dismiss Barney Frank given his reputation for spouting irrelevant information from time to time.  But he had been a very strong ally of President-elect Obama.  The issue is not so much his ramblings as it opens the door for others to openly criticize him.  Presidents are always criticized, but it seems this is a little early given he is not even in office yet   You woul think the honey moon would last some after the marriage but the marriage has happen nor has it been consumated and groups are lining up to destroy the honey moon.  The problem Barack faces is unrealistic expectations.  Gay groups, women groups, and black groups think he is going to pander to them and promote their agendas.  Barack is a shrewd politician and haven said that he is a politician.  He speaks of being post-partisan which means he will not govern as a Democrat.  Now to not govern as such he will piss off a lot of people who helped elect him.  That is dangerous water to navigate.  That will be a delicate political dance that he may pull off.  We will have to wait and see.  Should Barack ignore those loyal constituents who elected him and do what he feels is best?   What do you think?
Article:Obama overestimates his charm
No comments yet.
Top Posts

Recent Posts

Recent Comments

Top Clicks